Do you have a lot of furniture that you're not going to be using anymore? At first, it may seem like an easy thing to get rid of old furniture, but you'll soon find out that it's not as easy as moving your items next to your trash. Here are a few ways to get rid of furniture without too much of a hassle.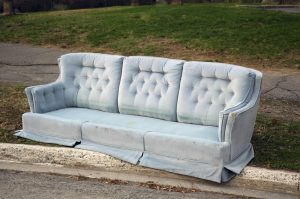 Sell Your Used Furniture
Sell furniture that's still in good condition. Maybe you had a couch in a room that was rarely used, so the couch is still almost as good as new. Leather furniture can hold up especially well over a long time. If your furniture is only gently used, there are plenty of people who will be happy to get it for less than they'd pay in the store.
If your furniture has a bit of wear and tear, but it's by no means falling apart, consider trying to sell it at a garage sale. You won't get a ton of money for it, but you can give it to somebody who has a limited budget for furnishings. Put ads online for your garage sale and place signage around the neighborhood. Try to get started a few weeks before the actual sale so that local residents will remember to go to it. Remember to clean the furniture well before putting it out for sale!

Hire a Junk Removal Company
If you don't have a way to bring your furniture to the dump or a recycling center, hire a junk removal company to come and pick it up for you. They'll do the heavy lifting and get your furniture out of the way so that you can redecorate your home sooner rather than later. Many junk removal companies will dispose of your trash ethically in a way that's good for the environment.
Donate the Furniture
Even shabby furniture may be useful to some organizations or businesses, like a small coffee shop, a local theater or a homeless shelter. For example, if your couch is clean and only has a tear in the cushions, a theater group may love it for part of their set. If you have an old bookcase that's seen better days, but it's not unsafe to be around, a nearby shelter may have a use for it.
Bring it to an Antique Shop
If your furniture is exceptionally beautiful and in decent condition, an antique shop may want to buy it from you. Even if the piece is no more than a decade old, antique shops may still want to buy it, especially if it's a unique piece or has a great story behind it. You don't have to cart the furniture all the way there to find out. Simply bring in some photos and know the measurements of your piece when you talk to the shop owner. Even a vintage card table or an old lamp could be treasure to some collectors.
Pass it Down
Some of the best furniture has been passed down from generation to generation. If you're ready to get rid of a desk, end table, sofa or other piece of furniture, find out if anyone in your family needs to outfit a new apartment or house. This is also a good option if you don't have space for a piece of furniture in your home, or if it doesn't go with your home's aesthetic, but you don't want to give it to a stranger or throw it out, either. By passing it on to someone else, it will stay in your family.