Hire A Junk Removal Company
Sorting, moving, recycling, and disposing of junk can be a long and arduous task. Some items may need to be recycled. Other items may be in good enough shape to be donated to charity. You may even need to consider hazardous waste removal, depending on the materials that you need to dispose of. Most people do not want to waste time and energy on the disposal of junk. That is why so many people end up accumulating junk on their property- most of us are not able to devote the necessary resources to such a mundane project.
However, if you call a Junk Removal Company , you will never need to worry about what you will do with all of the junk that has accumulated. Instead, you will be able to have peace of mind, because a trash removal company will come to your property, pack up all of your junk, clean up the mess, and leave you with a cleaner and neater piece of property, and less stress than if you had chosen to pack up, haul away, and dispose of all of the junk yourself. There are many situations that call for the help of a debris removal team, and Speedy Junk Removal Pros can help you with nearly all of them.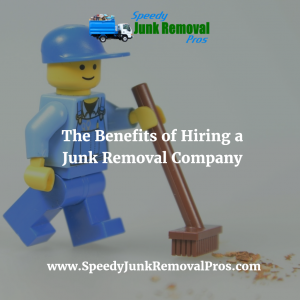 Another major concern for you may be the sorting and disposing of recyclables. Who wants to sit for hours, painstakingly separating cardboard, packing paper, and metal from materials that cannot be reused? You are probably not accustomed to that kind of work, and you know ahead of time that it will take you hours to accomplish. When you hire a reputable trash removal company to sort, move, and dispose of your recyclables for you, you will be able to free up more of your time to accomplish the things that are necessary in your life. The cost of hiring a quick and reliable junk pickup company is nothing compared to the time effort and energy that you would have to devote to accomplishing such a task on your own.
Speedy Junk Removal Pros service is dedicated to preserving the environment and also preserving your peace of mind. They will sort, remove, and dispose of your recyclables, gently used items, and just plain trash so that you do not need to concern yourself with them. Instead of making at least four separate trips on your own- to the dump, to Goodwill, to Habitat for Humanity, and to the recycling center, Speedy Junk Removal Pros will sort your junk, pack it up, and drop it off at the appropriate locations for you in one easy trip. You don't need to spend a couple of days going through and disposing of junk. Let someone else take care of your debris removal for you! After a major home remodeling project, you may be overwhelmed by the amount of cleanup that remains after everything has been repaired or upgraded.
You may cringe at the thought of putting old, rough, and possibly even dirty leftover or already used materials into your personal vehicle, but you may not know what else to do with the pieces of junk and debris that are currently detracting from the beauty of your remodeled property. A reputable and dependable junk hauling and removal company can help you with this issue and with many more. They will come to your property and haul away and dispose of all of the junk on your property. They can help you with trash removal, and debris removal that will make your property look more attractive and inviting. Having professionals to help you to haul junk away is much better than trying to shoulder the entire burden on your own. They have large, commercial sized vehicles that are built to easily accommodate an amount of junk that would never fit into the vehicle that you own for personal use. In order to reduce the amount of stress in your life, you should hire a rubbish cleanout and removal company to help you to remove all of the trash from your home remodeling project.
Whether you need to clean out your storage area, demolish and dispose of your backyard shed or hot tub, or just invest in brush removal to make your property more attractive, calling and hiring a Junk Removal Company is your best bet for a clean and tidy piece of property, and for your peace of mind. They can even help you with any hazardous material removal concerns that you may have. They can easily identify and safely dispose of hazardous wastes and materials that cannot legally be thrown away with your other trash. No one wants to spend their own precious free time sorting through and removing junk. Instead of devoting hours and even maybe days to the task of hauling your own junk away, call a reputable trash removal service to do it for you. You don't need to use up all of your gas, and possibly damage the interior and/or exterior of your personal vehicle just to get rid of all of your leftover junk. Instead of using your own time and energy, call a professional service who specializes in quick, cheap junk removers with a staff of polite, respectful, and uniformed staff. They will come to your property on your schedule and haul away all of your junk for a nominal fee.