Commercial Junk Removal Services
We are a locally-owned junk removal company providing quality and affordable removal services to all of Boston and North Shore area. We specialize in removal of junk from homes, storage spaces, businesses, stores, and more. We load the junk and do all the clean up so you don't have to.
JUNK. If you are going to run a lean and profitable business, then you have no time or space for it. Whether you inherited the junk or created the junk in the normal course of doing business, you can't let is slow you down. Where can it go? Who will haul it off? How long will it take and how much will it cost?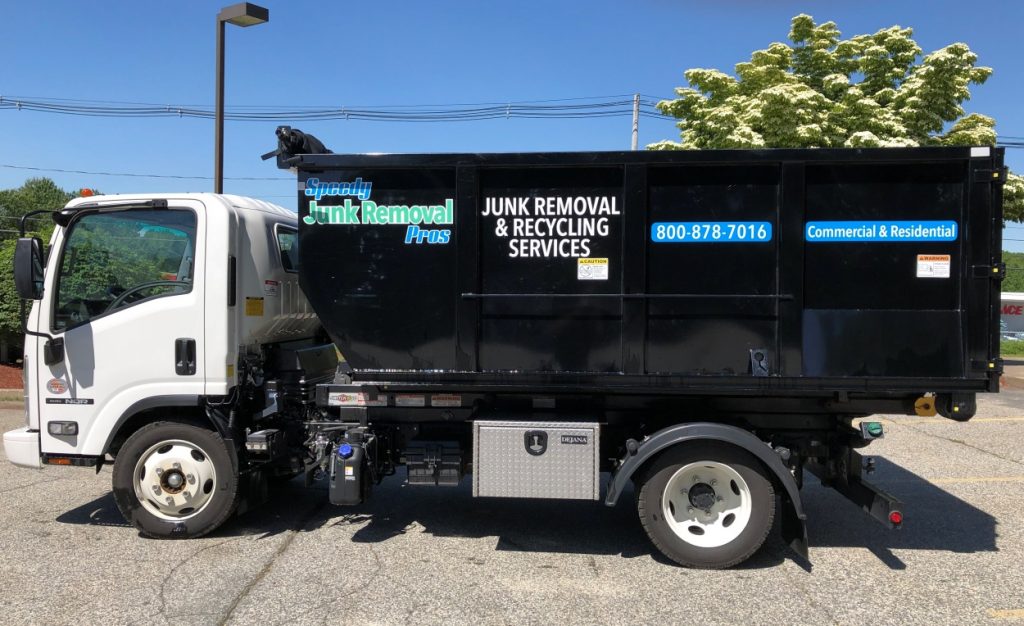 Who can benefit from Commercial Junk Removal Services?
apartment managers and maintenance personnel
commercial property managers and maintenance personnel
storage building owners and managers
hotels
churches
small businesses, offices, shops, and garages
businesses, municipalities and organizations that need assistance with disaster preparedness
businesses that are faced with a temporary situation which exceeds their ability to process and dispose of waste and debris
any business that has junk that needs to be removed and disposed of properly but doesn't have the time and means to do so
What will Speedy Junk Removal Pros haul off?
The short answer is anything that will fit in our truck, can be loaded by our two-man crew, and is not chemical, biological or hazardous in nature.
What does Speedy Junk Removal Pros do with junk from businesses?
We sort it and dispose of it properly. That means items which can be recycled are taken to the appropriate recycling center.  Items which can be used or refurbished by local charities are donated, and the remaining items will be taken to the nearest landfill and disposed of properly.
How much does Speedy Junk Removal Pros charge to remove junk from my business?
The cost to have us remove your junk is less than you might think. Our pricing is based on volume, or in other words, how much of our truck your junk takes up. Contact us today for a Free Quote online on commercial junk removal or by calling (800) 878-7016.
How can my business benefit by using Speedy Junk Removal Pros?
the labor, transportation, and disposal costs are all included
our removal and disposal process is professional and environmentally friendly
we provide on-time service, and our uniformed crew is professional and courteous
we take on the risk involved and are properly insured for commercial work
you are freed up to run your business and your employees are able to do what you hired them to do
easy account set up and billing
discounts for large commercial jobs and/or regular, repeat service
Still have questions? 
Contact us today for a Free Quote on junk removal by calling (800) 878-7016.
Save
Save